Khao San Road is known as the Bangkok backpacker central, yet has no historical sights to speak of. Even so, its location in the Old City (Rattanakosin) makes it an ideal base from which to explore Bangkok's classic attractions. That's not to say there's nothing to look at or admire here, though.
On the contrary, being a hub of unwashed humanity means Khao San Road is the perfect place to do some people watching, and only minutes' walk away lies the distinctive bohemian atmosphere of Phra Arthit Road. Regular Khao San backpackers know this bustling strip for its easy access to the Chao Phraya River Express boats, too.
What are the best things to do around Khao San Road?
In the former grounds of the 18th-century Wang Na Palace, the Bangkok National Museum houses the largest collection of Thai art and artefacts in the country. It's definitely worth a visit, especially if visiting nearby Wat Phra Kaew or the Grand Palace. Opened by King Rama V to exhibit the antiques and gifts bestowed on him by his father, it once held a reputation for being an ill-organised gathering of dusty relics, though it has since been arranged more coherently.
Taxi is probably the best way to get to the museum. Or, embark the Chao Phraya Express Boat to Maharaj Pier, then walk about 20 minutes.
Location: Na Phra That Alley, Phra Borom Maha Ratchawang, Phra Nakhon, Bangkok 10200, Thailand
Open: Wednesday–Sunday from 9 am to 4 pm (closed on Mondays and Tuesdays)
Phone: +66 (0)2 224 1402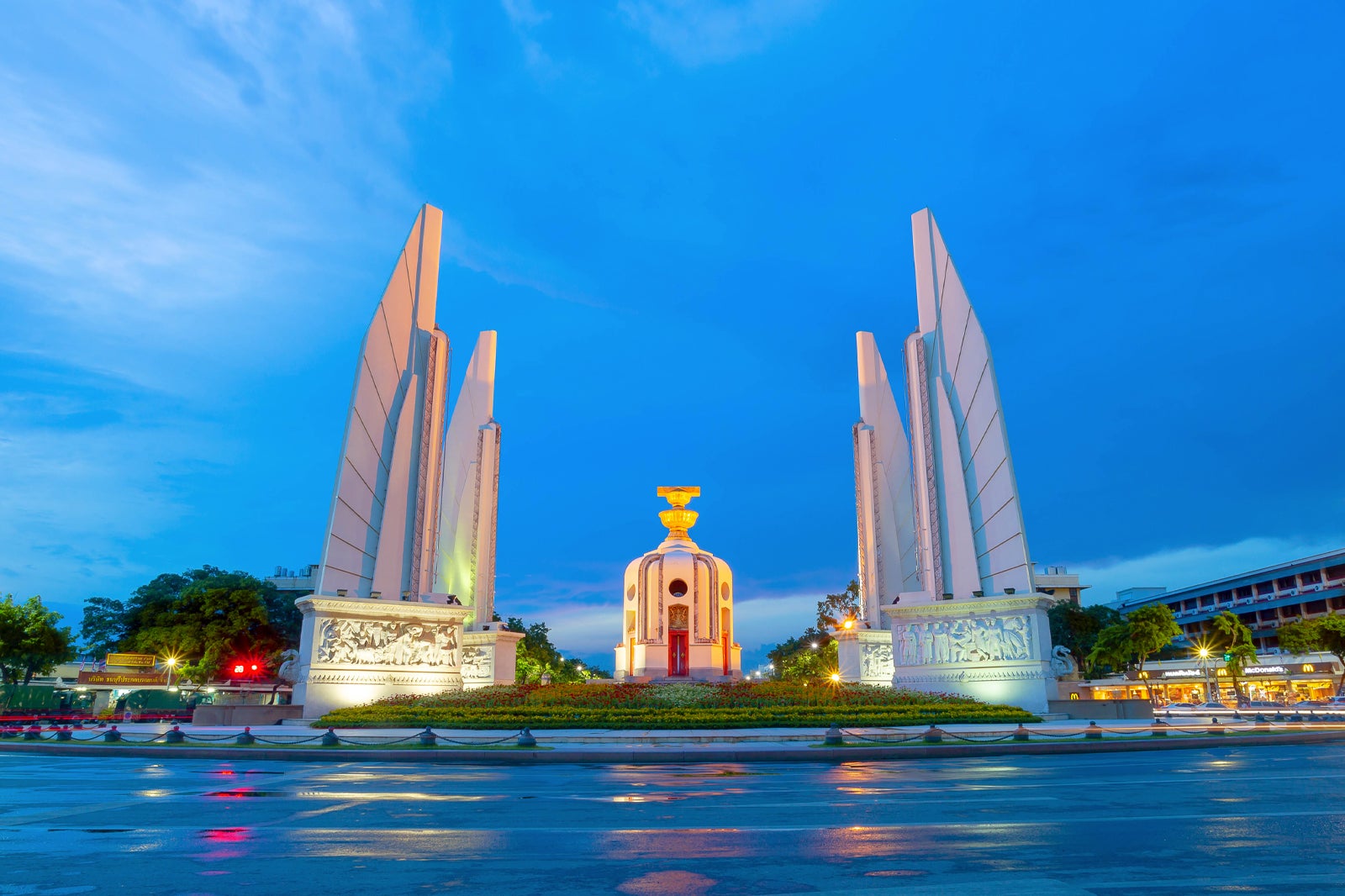 Bangkok's Democracy Monument on Ratchadamnoen Road is circled by perpetual swarms of traffic. It's a large, western-style symbol of Thailand's adoption of democracy and liberty. Designed by Italian-born Thai citizen Corrado Feroci (who later adopted the Thai name Silpha Bhirasi), it's rich with symbolism relating to the constitution's birth date of 24th June 1932.
A copy of the 1932 constitution is in its central pedestal, the surrounding wing-like structures are 24 metres high, each symbolising one of the four branches of the Royal Thai Armed Forces that guard it. Bas relief sculptures at the base of the monument depict the armed forces both as champions of democracy and as the personification of the Thai people.
Location: Ratchadamnoen Avenue, Wat Bowon Niwet, Phra Nakhon, Bangkok 10200, Thailand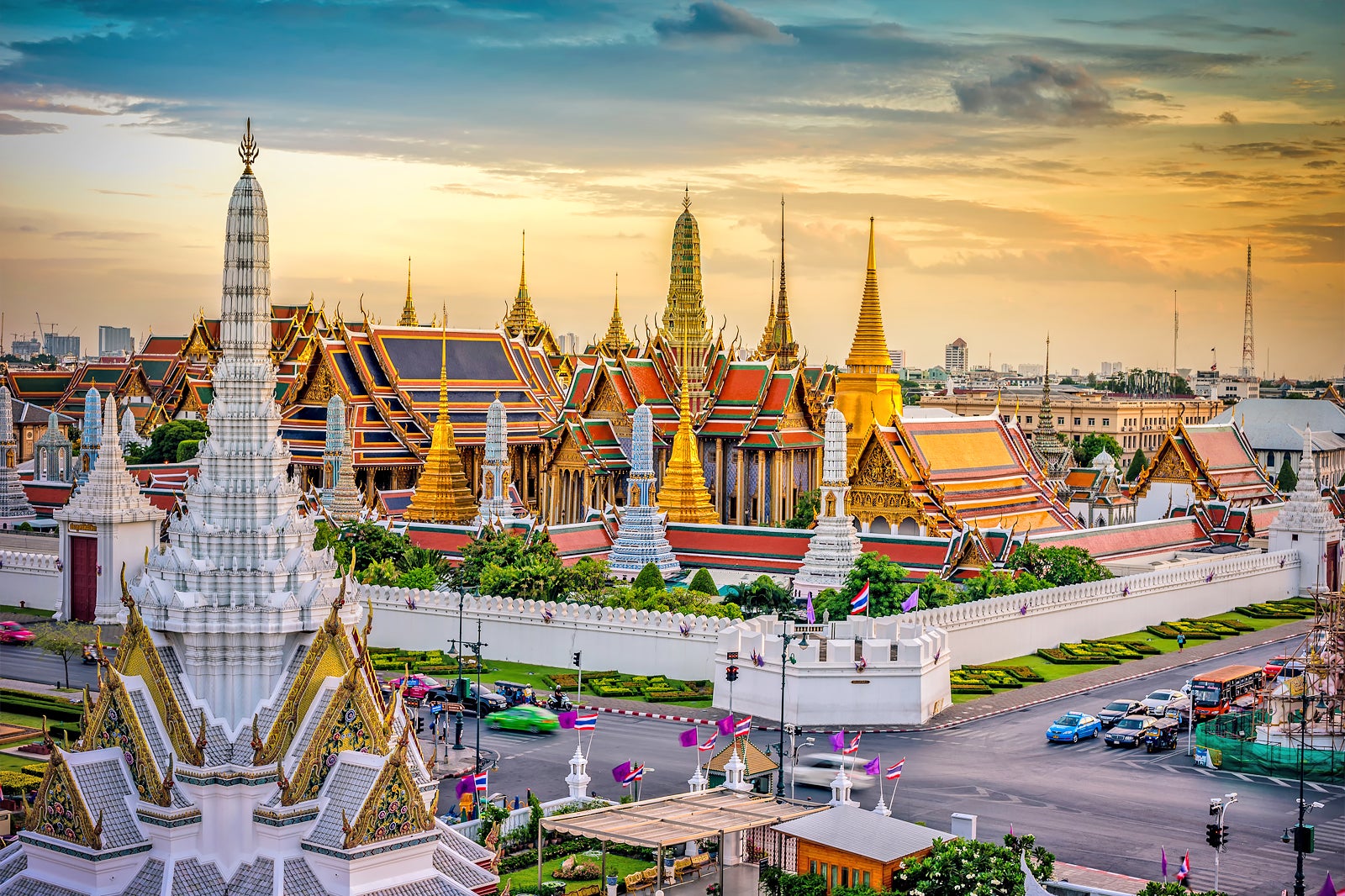 If there's one must-see sight that no visit to Bangkok would be complete without, it's the dazzling, spectacular Grand Palace. Built in 1782, the palace continues to be the Thai capital's most famous landmark. For over a century, it was the home of the Thai King, the Royal court and the administrative seat of government.
The Grand Palace of Bangkok is a grand old dame indeed. It continues to have visitors in awe with its beautiful architecture and intricate detail, all of which are a proud salute to the creativity and craftsmanship of Thai people.
Location: Na Phra Lan Road, Bangkok Old Town (Rattanakosin), Phra Nakhon, Bangkok 10200, Thailand
Open: Daily from 8.30 am to 3.30 pm
Phone: +66 (0)2 623 5500
Price: 400 baht entry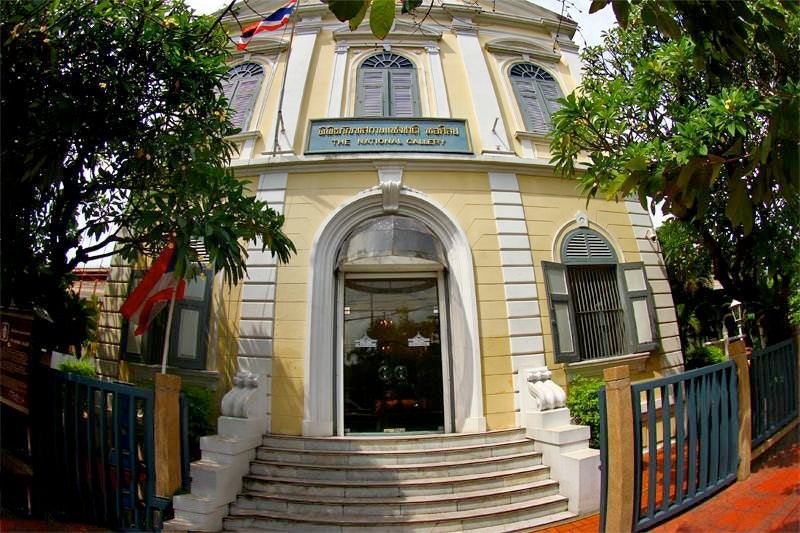 Housed in a former Royal Mint built during the reign of King Rama V, the National Gallery displays work by Thai artists from the 17th century onwards. Inherited by the Department of Fine Arts in 1974, it includes permanent exhibitions of works by King Rama VI and HM King Bhumibol Adulyadej, traditional murals from early periods in the capital's history, and pioneering Thai modern art.
Particularly evident is the influence of western schools of art, like impressionism and cubism, on recent Thai artists. There's also an area featuring temporary exhibitions of art from home and abroad – everything from painting and sculptures to prints and installations.
Location: 4 Chao Fa Rd, Chana Songkhram, Phra Nakhon, Bangkok 10200, Thailand
Open: Wednesday-Sunday from 9 am to 4 pm (closed on Mondays and Tuesdays)
Phone: +66 (0)2 281 2224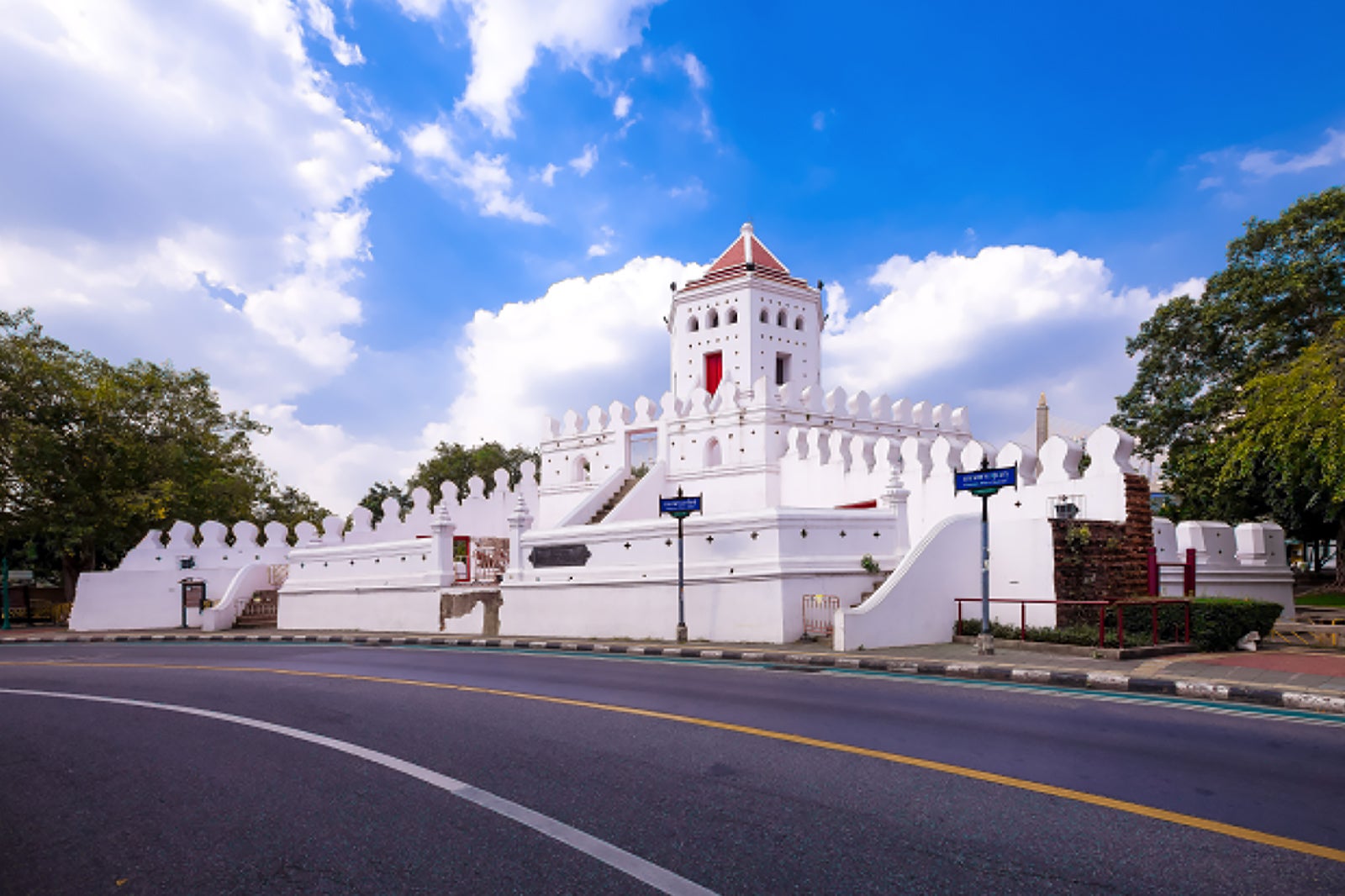 During the reign of King Rama I, 14 forts were built to protect the borders of the Old City, but most have disappeared over the years. Only this one on Phra Arthit Road and the Mahakhan Fort on Ratchadamnoen Road now remain.
Nestled in the quiet Suan Santichaiparkran Park, which itself straddles the banks of the Chao Phraya River, the hexagonal shape of this white concrete fort, with battlements, cannons and observation decks, is still in good shape, albeit with a slightly distressed look. Come here during the day and combine your visit with a spot of relaxation in the park, or lunch at one of Phra Arthit Road's hole-in-the-wall restaurants. The fort looks best when lit up at night.
Location: Phra Athit Rd, Chana Songkhram, Phra Nakhon, Bangkok 10200, Thailand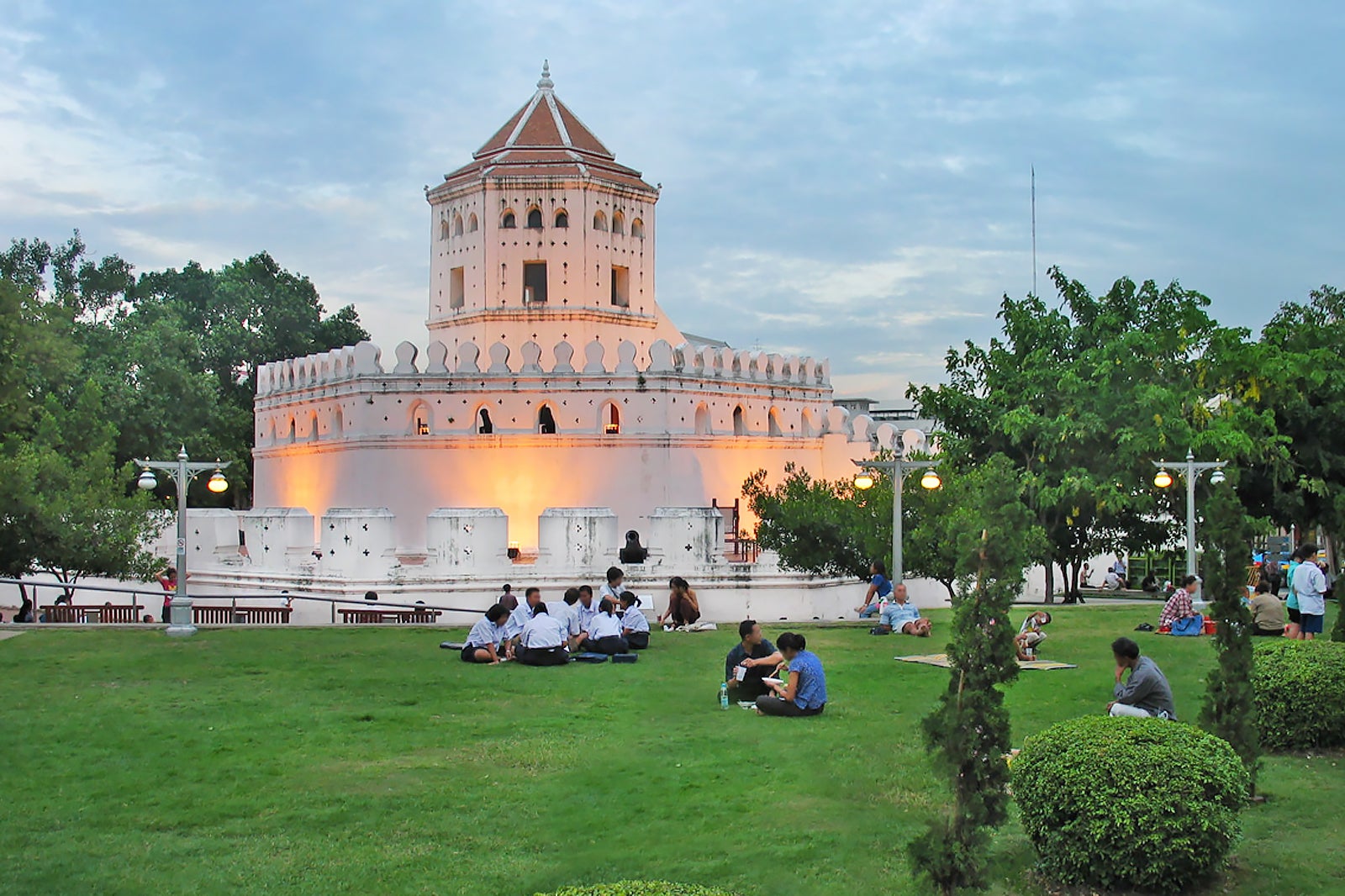 Built around one of the few remaining structures of the Old City fortifications, Santichaiprakan Park has become very popular with tourists and city dwellers, especially in the evening when the park fills up with families as well as young Thais and foreigners. The nearby Phra Artit Road has several eateries and chill-out pubs and bars. It's only a 10-minute walk away from Khao San Road.
Location: Phra Athit Rd, Chana Songkhram, Phra Nakhon, Bangkok 10200, Thailand
A hidden gem just a few metres from its bigger sister, Khao San Road, Soi Rambutri is a more laid-back version of Khao San. The feel is almost like Khao San of yesteryear, before it shot to fame with the release of the Hollywood flick The Beach in 2000.
Fringing Soi Ram Butri's stone-paved path are sidewalk café, restaurants, beer bars and guesthouses of all types, as well as a lineup of street stalls selling music CDs, used books, second-hand guitars, funky T-shirts, stir-fried noodles, som tam, and more. The soi runs from Phra Athit Road to Chakrapong Road, where you can continue on to Khao San.
Location: Soi Rambuttri, Talat Yot, Phra Nakhon, Bangkok 10200, Thailand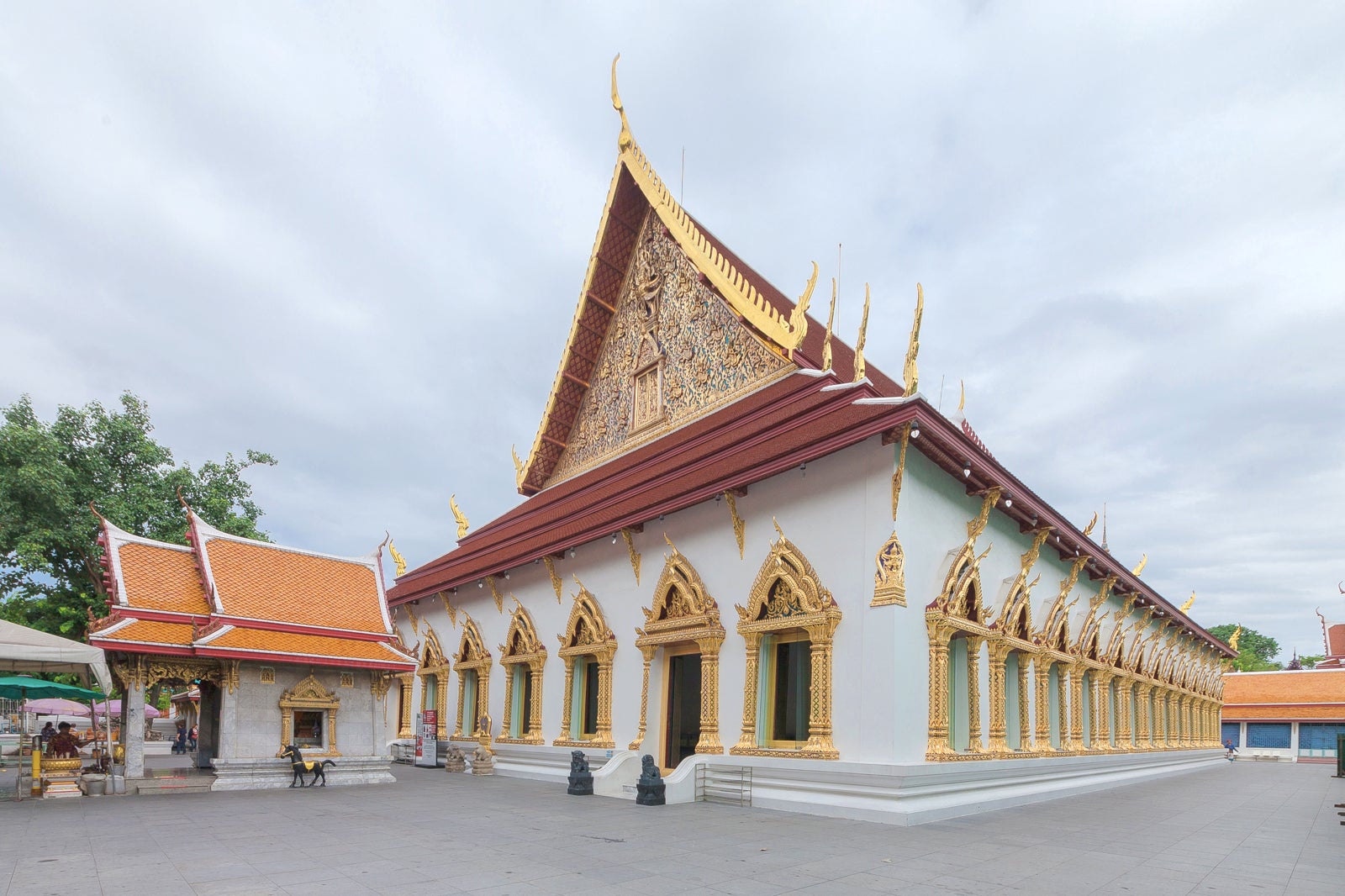 Wat Chana Songkhram is proof that the sacred can survive amid the profane. Its location in the backpacker enclave of Banglamphu, close to Khao San Road and the mildly less frenetic Soi Rambuttri, belies both the ancient heritage and the tranquillity of this small temple and its shady grounds. Its origins date back to the Ayutthaya period, but it was restored in 1787, during the reign of King Rama I.
At the rear is a sedate, tree-lined courtyard, including temple housing where monks and lay workers still reside. Within the temple's compound is a small courtyard. The windows and gable of the small ubosot, or ordination hall, feature elaborately gilded wood, while inside at the altar sits a famous Buddha image in the subduing mara posture called Phra Phra Buddha Norasee Trilokachet, dating from the reign of Rama I.
Location: Chakrabongse Rd, Chana Songkhram, Phra Nakhon, Bangkok 10200, Thailand
Open: Daily from 8 am to 5 pm
Phone: +66 (0)2 281 9396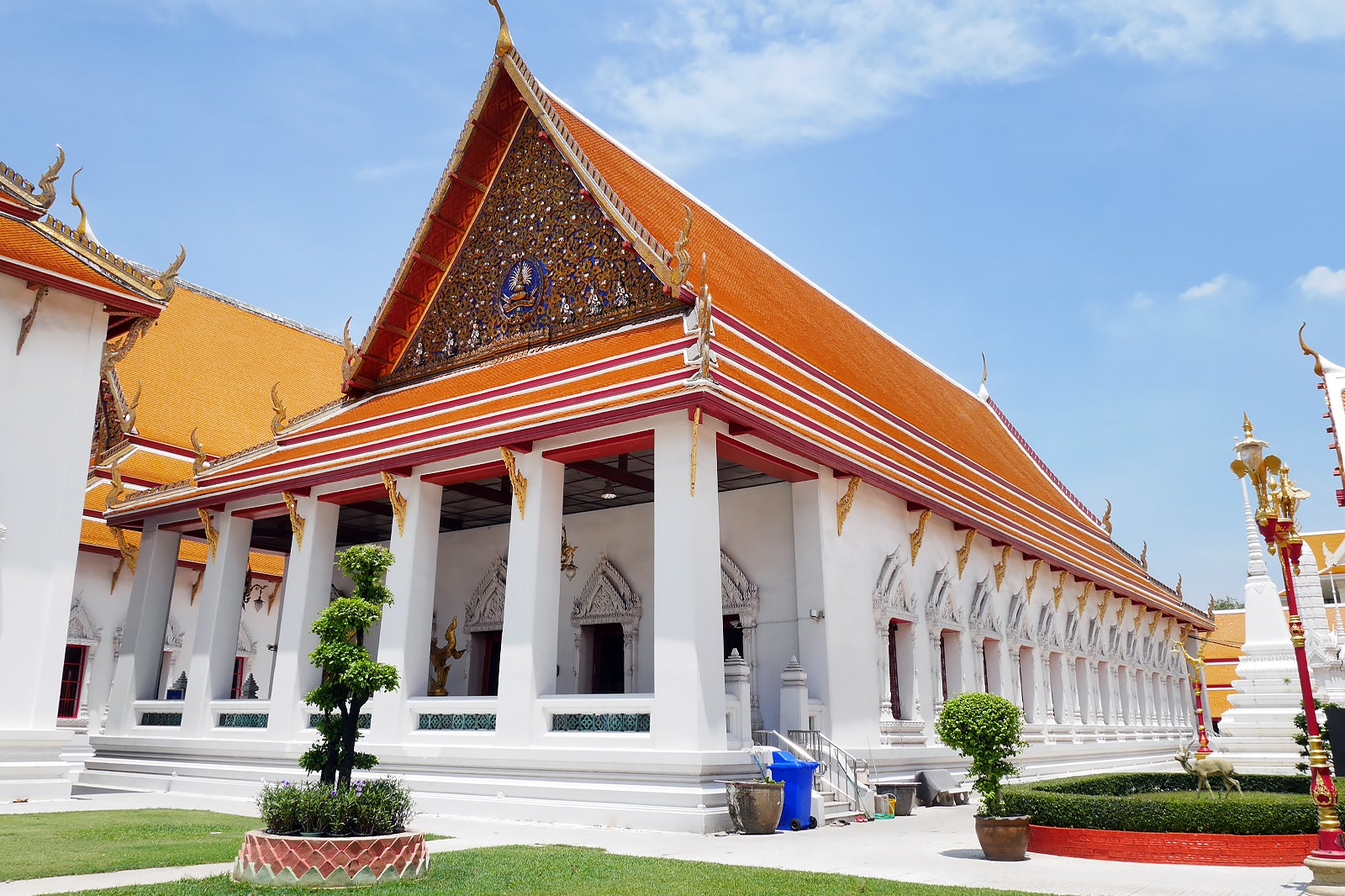 Wat Mahathat is the headquarters of Thailand's largest monastic order and Vipassana Meditation centre. It's also an important centre for the study of Buddhism and meditation.
Although most programmes are in Thai, there are some in English and the temple has become a popular place to learn Vipassana Meditation (Insight Meditation). Classes are held daily and the time needed for practise will vary with each individual English-speaking monk assisting.
Location: 3 Maha Rat Rd, Phra Borom Maha Ratchawang, Phra Nakhon, Bangkok 10200, Thailand
Open: Daily from 9 am to 5 pm
Phone: +66 (0)2 222 6011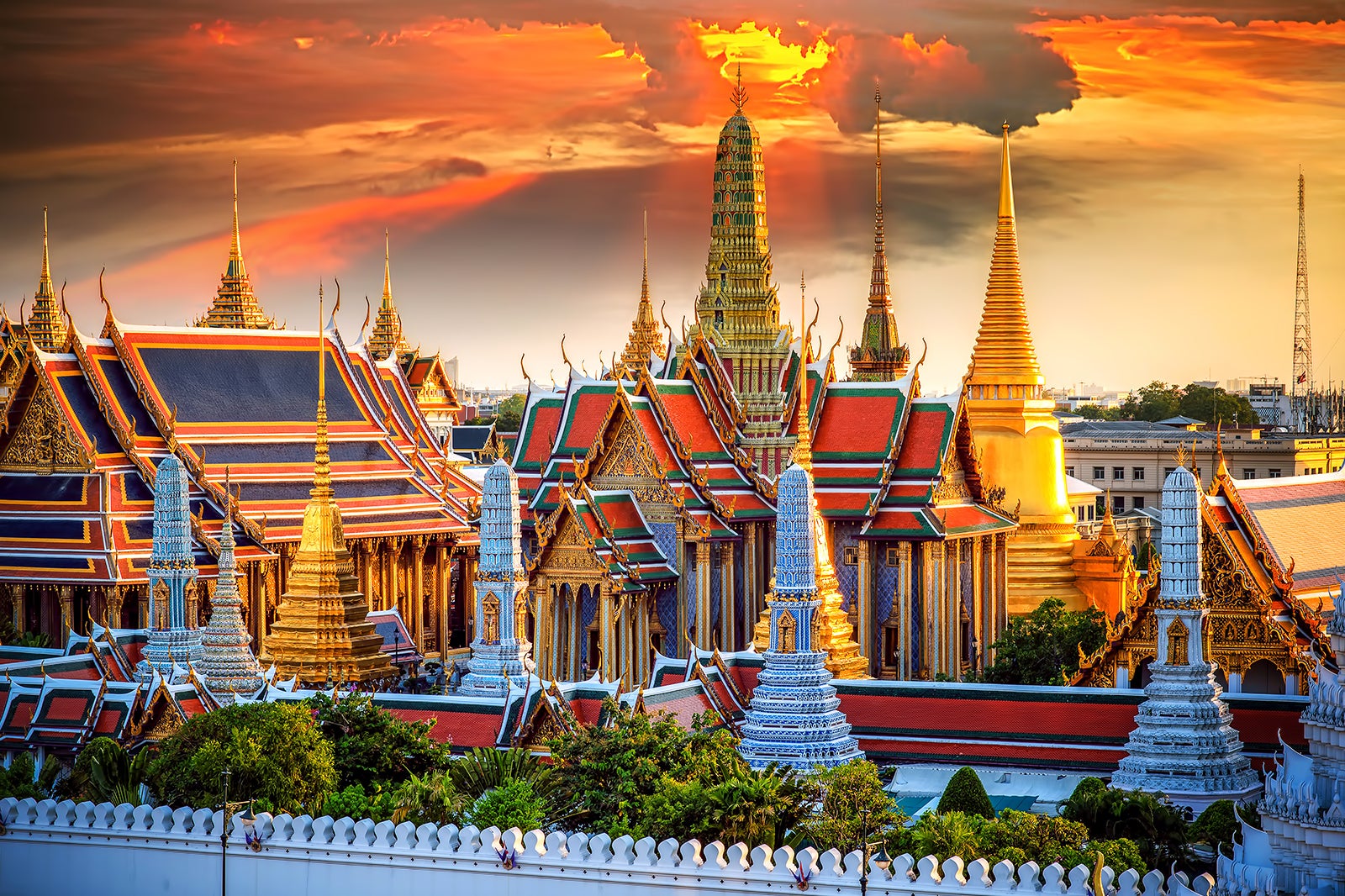 Wat Phra Kaew or the Temple of the Emerald Buddha (officially known as Wat Phra Sri Rattana Satsadaram) is regarded as the most important Buddhist temple in Thailand. Located in the historic centre of Bangkok, within the grounds of the Grand Palace, it enshrines Phra Kaew Morakot (the Emerald Buddha), the highly revered Buddha image meticulously carved from a single block of jade.
Location: Na Phra Lan Road, Phra Borom Maha Ratchawang, Phra Nakhon, Bangkok 10200, Thailand
Open: Daily from 8.30 am to 3.30 pm